Hentley Farm. What can we say except that sometimes in life we can be lucky enough to find ourselves in the right place at the right time. Having Hentley Farm as our next door neighbour is as good as it gets from our perspective as a boutique Barossa wine producer and provider of luxury Barossa accommodation!
When we bought our Seppeltsfield property in 1993, the only vines around us belonged to Seppeltsfield Winery. There were certainly no nearby restaurants. We planted our 10 acres of Shiraz and Cabernet vines in 1999 and Otto Kasper, a recent immigrant from Germany and larger than life character in his seventies, bought the property on our southern boundary and planted Shiraz vines adjacent to our vineyard.
In the meantime Keith and Alison Hentschke bought the property on the southern side of Otto, known today as Hentley Farm.
We used to look across at the derelict buildings on this property and hope that someone would rescue them, as we had rescued and restored the 1860s cottage on our property, now known as Seppeltsfield Vineyard Cottage.
Hentley Farm then bought Otto's property and from the vineyard Otto planted next to ours they produce their flagship wine, Clos Otto Shiraz. Our Seize the Day Shiraz vineyard is in good company.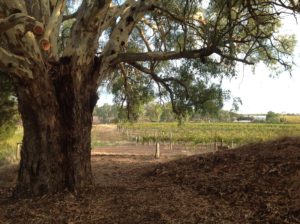 The Hentley Farm Cellar Door and Restaurant are two of the Barossa's premium attractions. The restaurant wows our Cottage guests and they can walk to lunch (or dinner in the summer months) through a purpose built gate between our properties.
It's a three minute walk from the gate behind this massive old red gum in the corner of our property, to the restaurant and cellar door – not quite enough time to sober up on the way back to the cottage!
Our region of the Barossa, which encompasses Marananga, Greenock and Seppeltsfield is now world renowned for the iconic wines being produced here. As well as Hentley Farm, we are surrounded by industry icons such as Greenock Creek Vineyard and Cellars, Seppeltsfield Wines, Two Hands and Torbreck Vintners.
Good company indeed and a good reason to raise a glass of Seize the Day!