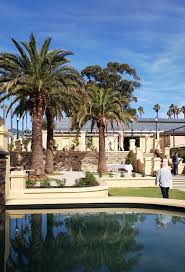 In late November 2014 we saw local history being made as Seppeltsfield Winery began a new era in a modern age. The new Seppeltsfield terraced courtyard, a result of the removal of 2,500 tonnes of earth, the new Seppeltsfield Wines Cellar Door and adjacent Fino restaurant were officially opened, fireworks and all!
Fino, known by many as one of South Australia's finest dining venues located in Willunga in the McLaren Vale, is now complementing its Southern Vales restaurant with a Barossa sister, Fino@Seppeltsfield.
Concentrating on progressive regional cuisine (starting with Hutton Vale lamb and SchuAm Berkshire Pork of Freeling), the wine list also reflects some of the best of the Barossa. Happily, we can say this includes our very own 2010 Seize the Day Shiraz Cabernet!
Dining areas include the outdoor terrace with Parisian furniture shaded by palm trees, a glass bifold enclosed room with the kitchen in view, or Cellar 1, where 1860s wine blending tanks have been hollowed out, enabling diners to sit under Seppeltsfield's famous Centennial Cellar which holds every barrel of Tawny (Port) made from 1878 to now.
What better place to enjoy a glass of our Seize the Day Shiraz Cabernet blend?!